Performances of Compositions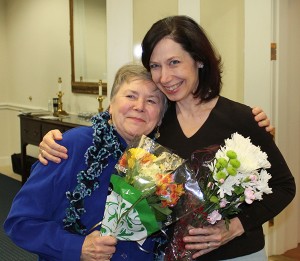 Below are some excerpts of recordings of compositions by Martha Bishop, used by permission of the performers.
"Breakaway" performed by Jody Miller (recorder) and Selina Sanchez (percussion)
"Desert Radiance, Desert Gloom" performed by Jean Gay, cellist
"Jubel!" played by Atlanta Baroque Orchestra, Julie Andriejeski, conductor
"Tango In Nomine"  played by "Quaver"
"Serna Suite"—Prelude, for Solo Viola da Gamba.  Phillip Serna, soloist
Serna Suite can be heard in entirety at  http://phillipwserna.com/AudioFiles/Phillipwserna-MarthaBishopB1937SernaSuiteFor7StringBassViol2009542.mp3
"Jasmine" played by Parthenia
Jasmine is published by the Viola da Gamba Society of America, contact Alice Renken at arenken@sandwich.net.
"Suite No. 1" for two Bass Violas da Gamba, "Hille" movement played by Hille and Marthe Perl
Suite No. 1 is available on Sixxes or 'the American Gamba' with music by John Cage, Richard Cornell, Martha Bishop, Christian Wolff and Lee Santana. DHM (2012).
"Credo" from "Missa Brevis", St. Bartholomew's Episcopal Church Choir, Brad Hughley, director
"Hijaz" for solo bass viol, André Laurent O'Neil, played on cello
Hijaz, Suite No. 1 and Tango In Nomine are available through PRB Publications.