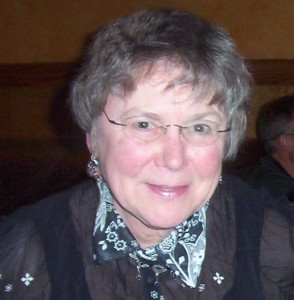 "Martha Bishop, einer unglaublich interessierten und gebildeten Amerikanerin, die von Georgia aus die amerikanische Gambenrenaissance betrieben hat."
from "Rondo", May 2012.

(Translation: "Martha Bishop, an unbelievably interesting and educated American from Georgia, has orchestrated the Renaissance of the Viola da Gamba.")
Martha Bishop stays very busy in Atlanta, GA, as a composer and performer (viola da gamba, violone, cello).  Many of her compositions are for early instruments, with anniversary commissions from the Viola da Gamba Society of America and the Atlanta Baroque Orchestra.  Several pieces for gambas and recorders have won prizes, publication (PRB Publications, Susato Press) and two Sony recordings by Hille Perl.

            She also writes for modern instruments, including a saxophone quartet, a flute sextet, an euphonium quartet, 3 string quartets, piano trio, solos with and without piano for clarinet, flute and bassoon, a song cycle and organ solos.  She has written many pieces for choir and for school string orchestra, one of which received a Carnegie Hall performance. Her music for modern instruments have received performances across the U.S. and in europe, and some are published by Tempo Press and Finale Make Music.
Recent and upcoming performances/recordings/publications:

ViolMedium performing "In Nomines Incognito á4":
Jacob Bitinas performing "Hijaz":
Phillip Serna performing "Tango" from "Serna Suite".  For entire Suite, visit  https://youtu.be/qt_JPzehTn0.
"In Nomine" for six viols performed in Chicago by Phillip Serna and friends, and at faculty concert of Mountain Collegium, both in June 2016.
"Noah's Ark" on text of Marcia King, to be performed by St. Bartholomew's Epicopal Church children's choir in 2016
"Walking in and out of Step" for two tenor viols, performed on faculty concert at Music on the Mountain, Tenn., 2016
"Tidal Currents" for guitar quartet won Women Composers Festival of Hartford to be played by New England Guitar Quartet, 2015
"Ocean Voices" for string quartet to be performed by world Oceans in 2015
"Hijaz" for bass viola da gamba recorded by Hille Perl on electric gamba to be released on Sony records in spring of 2015
"Hijaz" for bass viola da gamba to be recorded by Andrew Arecci in spring of 2015
"For Lucy Lute" in honor of Lucy Cross to be performed in N.Y. at her Memorial service in December 2015.
"Volcano" for solo clarinet to be performed by Arianna Tieghi in Italy in 2015
"Irish Emeralds" to be performed by Providence High School, Charlotte, N.C. in 2015
"Bach Fughetto" performed in CA by cellist Maksim Velichkin in "Fifteen Minutes of Fame":  Homage to Bach concerts, 2014
"In Nomine for 6 viols given a wonderful performance at Viola da Gamba Society of America Conclave in Oxford Ohio, summer 2014
"Serna Suite" for solo bass viol given a fabulous performance at VdGSA Conclave by Philip Serna.  Published by Northwood Editions, summer 2014
"Prelude and Fugue, Trope on In Nomine, and Hijaz" published by PRB Publications No. 34, 2014
Recent and current projects:
"A Christmas Wish" for SATB choir and vibraphone, lyrics by Eugene Field.  June 2016
"CityScapes" for alto sax, violin, cello, marimba and piano.  Jan. 2016
"Going Dutch" for violin and piano.  April 2016
"Psalm 56" for SATB choir, Feb. 2016
"Summer Fun", action song for SS childrens' choir grades 3-5, lyrics and music  by Martha Bishop, June 2016
"Irish Suite"for solo lever harp commissioned by Nella Rigell, Oct. 2015
"O Magnum Mysterium" for 6 viols written for Viola da Gamba 2015 Conclave
"Shadows at Dusk" for 7 string bass viola da gamba and piano, Sept. 2015
"Dust to Ashes to Dust" for solo viola, Sept. 2015
"Credo in Unum Deum" for SATB choir with some divisi, June 2015
"Magnificat" for SATB choir with divisi, Oct. 2015
"Gathering Clouds" for piano trio, March 2015