Curriculum Vitae:
Martha Bishop
Education:
M.A. in Musicology, University of N.C.-Chapel Hill, 1962.  Dissertation:  "The Cello Concertos of Peter Ritter"
B.Mus. with honors, University of N.C.-Greensboro, 1959, Pi Kappa Lambda Honorary Music Society, 1958.  Honors paper:  "Seventeenth Century Instrumentation"
Post Grad:  Cornell University fellow, 1992 (Viola da Gamba)
Audited Composition Courses, Emory University, 2008-2012.
Postbaculareate study in composition, Georgia State University, 2013-4
Composition Mentors:
Dr. John Anthony Lennon, Emory University
Dr. Charles C. Knox, Professor Emeritus, Georgia State University
Dr. Nikitas Demos, Georgia State University
Teaching Experience:
Agnes Scott Artist Faculty 1991-2007 (cello and composition)
Emory University Faculty Affiliate, 1964-present (viola da gamba)
Clayton State College Faculty Affiliate, 1991-1993 (history, viola da gamba)
Florida State University, 1998-9, Guest Consultant (viola da gamba)
West Georgia College 1971-1973 Faculty (history, cello, music appreciation)
Workshops in early music across the U.S., Canada, England, and Puerto Rico during the past 50 years
Administrative Experience:
Music Director of Annual Conclave of Viola da Gamba Society of America for 30 years
Past President of Viola da Gamba Society of America
Past President of Mountain Collegium Music Workshop in N.C
Performing Experience:
Atlanta Symphony cellist. 1965-1970
Atlanta Symphony viola da gamba soloist on several different occasions.
Atlanta Baroque Orchestra cellist, viola da gamba, and bassist past 10 yrs.
New Trinity Baroque bassist, viola da gamba, and cellist past 12 yrs.
North Carolina Baroque Orchestra, 2012-2014.
Other performing groups, including Emory String Quartet, Apollo's Musicke, K.E.M.P. (Knoxville), Atlanta Bach Choir principal cellist, Alabama Symphony (Birmingham) guest, Tallahassee University Symphony (Tallahassee) guest. Pied Pipers Renaissance group, 10 years.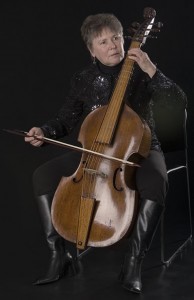 List of Compositions composed by Martha Bishop, organized by category.