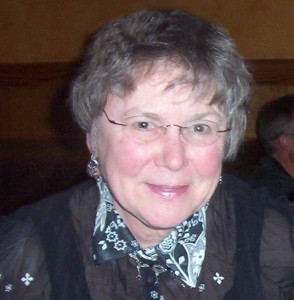 "Martha Bishop, einer unglaublich interessierten und gebildeten Amerikanerin, die von Georgia aus die amerikanische Gambenrenaissance betrieben hat."
from "Rondo", May 2012.

(Translation: "Martha Bishop, an unbelievably interesting and educated American from Georgia, has orchestrated the Renaissance of the Viola da Gamba.")
Martha Bishop stays very busy in Atlanta, GA, as a composer and performer (viola da gamba, violone, cello).  Many of her compositions are for early instruments, with anniversary commissions from the Viola da Gamba Society of America and the Atlanta Baroque Orchestra.  Several pieces for gambas and recorders have won prizes, publication (PRB Publications, Susato Press) and a Sony recording by Hille Perl.

            She also writes for modern instruments, including a saxophone quartet, a flute sextet, an euphonium quartet, 3 string quartets, solos with and without piano for clarinet, flute and bassoon, a song cycle and organ solos.  She has written many pieces for choir and for school string orchestra, one of which received a Carnegie Hall performance. Her music for modern instruments have received performances across the U.S. and in europe, and some are published by Tempo Press and Finale Make Music.
*Current Projects
Just completed:  "Into Eternity" for SSA and solo cello on Sonnet 60 of Shakespeare.
Concert Piece for Bassoon and Marimba
"Papiolionidea" being recorded for National Flute Convention autidion.
"Bach Fughetto" being performed in CA by cellist Maksim Velichkin in "Fifteen Minutes of Fame":  Homage to Bach concerts.

Commissions  "Les Amicables" for melodica quartet/quintet
Commission:  "Suite for Viol Builders for the 2015 Conclave"
 *Wonderful performance of "In Nomine" in Oxford Ohio at Viola da Gamba Society of America Conclave!
* Fabulous performance of "Serna Suite" for solo bass viola da gamba by Phillip Serna at Viola da Gamba Society of America Conclave in Oxford Ohio!  Suite published by Northwood Editions